Jeremy Hilliard is that multifaceted musician's musician who cannot be pinned down to one scene, one vibe, one trick. He is on one hand the founder and lead man behind the New York City based psychedelic-funk jam band PEAK. On the other hand, he is a modern Americana singer-songwriter who has been releasing folk infused songs that ponder life, living, and the world around us since the pandemic sent us all home to our living rooms. After quietly releasing multiple batches of his brand of music through Soundcloud and Bandcamp, he has put out his first official solo record, Trouble For Another Day on all major streaming spots and it's a wonderful, cerebral journey worth taking.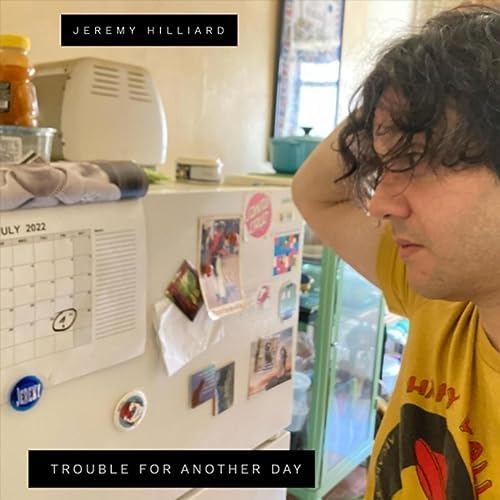 The album includes help from PEAK bassist, Josh T. Carter and also spirited and soulful backups from Bethany Hilliard on several tracks. When COVID had us all sheltering place for months, Jeremy was often streaming living room sessions with his wife Bethany (and occasionally their cat) which seemed a perfect springboard for the solo projects that followed. This full length effort is peppered with the feels of those sessions – the hope, the precariousness, and the wonder of it all. The album has a genuine Americana vibe and at times feels like a car ride through the countryside in the autumn – crunchy leaves blowing through the sunshine and heavy thoughts sprinkled through your mind. Particularly tracks like "American Blue" where this feel is layered over storytelling, carrying a message as deep as the valley pools you encounter on this journey. As someone who was raised on a bit too much Peter, Paul, and Mary and now lives and breathes the likes of Woody Guthrie and Pete Seeger, I am mildly infatuated with this wonderful resurgence of folk songwriting. This music that carries messages from generation to generation. This album is a fantastic example of that in so many ways.
"Swallowed By The Jungle" is another great track from this record with a steady pace and vocals that follow along, rythemic to the beat like a railway. The words are deep and pondering with great lines like, "Life, Love, And Death are a trinity" that kick you right in the soul in these bizzarre and tumultuous times. "Beautiful Reason" is a slower, gentler track with Jeremy's trademark guitar sound and a lovely, hopeful and positive vibe in the lyrics, proving just how a well written song can light you up as fast as it can send you into a cavern of your own thoughts. Then you have a song like "What Kind of Person Are You Anyway" that ponders the true nature of those around us all the time. This song feels like meeting new people, jiving with them for a while, and sitting down to really wonder who they are. "Are you the dirt that returns to the earth that which is hers, or are you the poison that will cause her to hurt?"
I mean, I feel like I have had these conversations with myself more often than I could recall. I love that about music. It relates to you as much as you relate to it, and this kind of music has always been my favorite for those moments of wonder. As we all wander along through this world that often seems determined to test us as much as possible, so much truth can be found in the words of artists who dares to write out what resides in their soul. Even better are those who have the skill put it to music. That feels to me like the soul of this record. Listen to the song "Too Much of Everything" for even further perspective on that. This song feels like the middle of the pandemic when we had done everything we could think of to get through yet another unprecedented event in our lives that was testing the very fabric of everything we thought we were. We didn't know what to do anymore, so we did everything we could think of. Now here we are, dealing with the overwhelming reality of it all. It's remarkably relatable.
I have always liked this storytelling aspect of songwriting and I guess that is what always drew me into the worlds of folk music and it's many layers. Several years ago, I started to lose my eyesight and was introduced to audiobooks. As a bibliophile, it was a hard transition to have to listen to words instead of being able to hold a book and read them myself because then my mind didn't get to decide what the narration sounded like. Then I had a realization that it was much like the singer songwriter music that I have always held dear in that these are still the same words, but spoken so that eyes can rest while the mind is still active and running through stories, adventures, and feelings. I realized right away that this is why this music is so wonderful – it's been telling us stories for so many years, passing them along from generation to generation in the purest aspect of what music truly is. It teaches lessons and allows the mind to wander through situations, contemplating the emotions and outcomes. This is exactly that kind of music. Jeremy simply takes that concept of storytelling and laces it expertly through his brand of guitar driven folky rhythms that still never lose that thing that makes PEAK such a fun band to see. The songs carry you. They carry you along with a groove. Your toes tap, your shoulders move ever so slightly with the song. Though this record is a very different kind of vibe overall, it's still the product of the same groovy soul – and that is distinctly palpable with every track.
You can find Trouble For Another Day from Jeremy Hilliard everywhere music streams, and I think you absolutely should. There are travels to be had and concepts to ponder within these fantastic songs that I cannot recommend highly enough that you do. Check out the links below:
https://www.instagram.com/jeremyhilliardmusic