The Catbird Festival will be coming for their first go on the original concert grounds of the historic Woodstock Music and Arts Festival on August 19th and 20th. Now part of the Bethel Woods Center for the Arts, the original grounds have been lovingly kept and maintained for visitors to come and visit for many years. The center itself has it's own separate concert pavilion, keeping the original concert field as a memorial to the festival that brought hundreds of thousands of music lovers to the fields once owned by Max Yasgur back in 1969. Catbird will be the first festival to bring music and camping back to the grounds.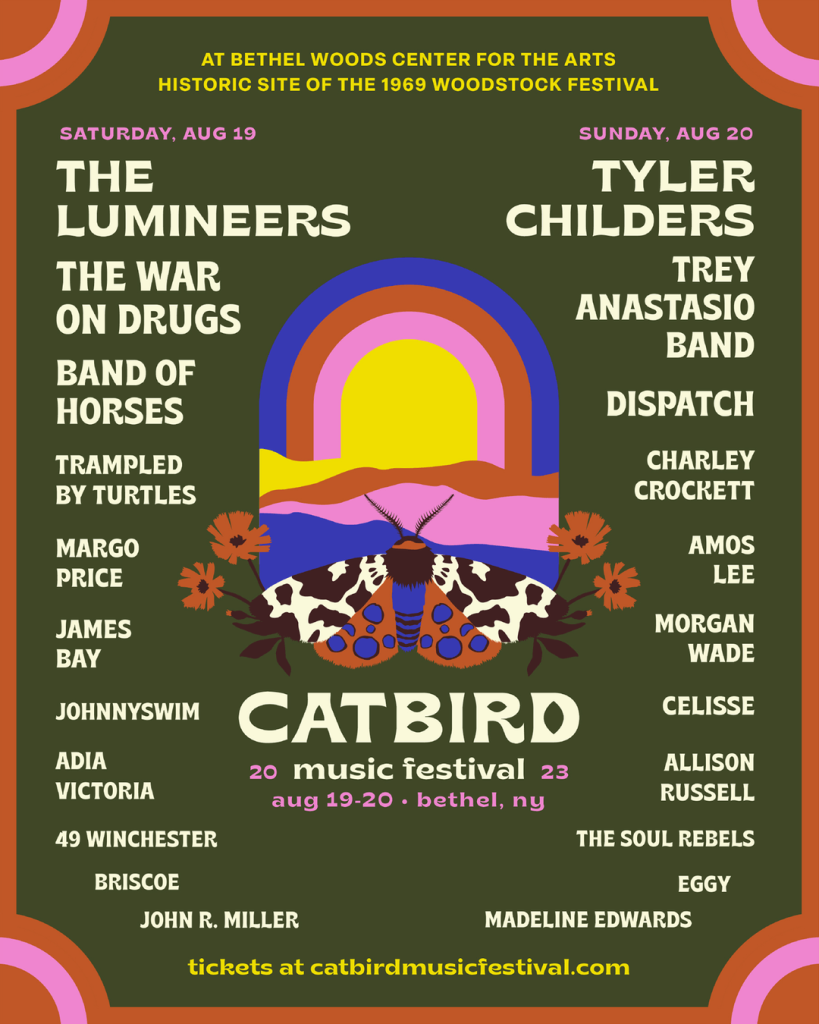 SCHEDULE: With two stages of music, Catbird is bringing a list of jam and indie artists for all kinds of tastes in a truly special environment. Attendees can check out The Lumineers, Band of Horses, Trampled By Turtles, Dispatch, The Trey Anastasio Band, and Tyler Childers, just to name a few. The fest has released their schedules for both days on their website, and you can check them out right here: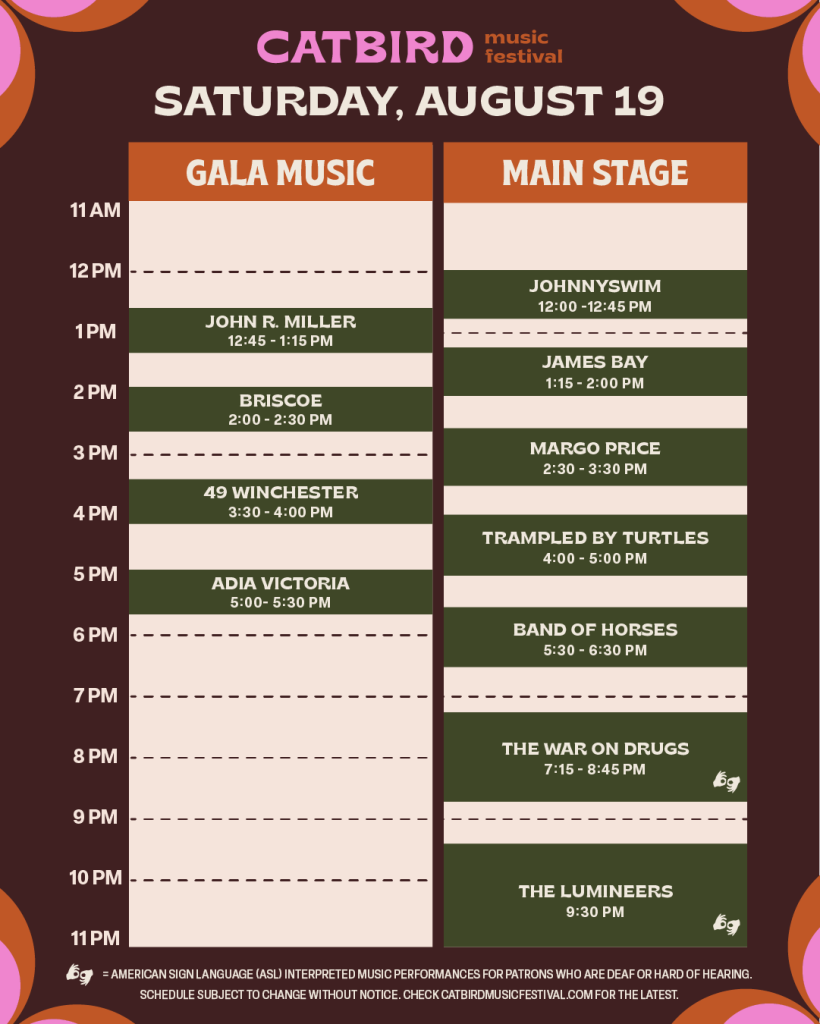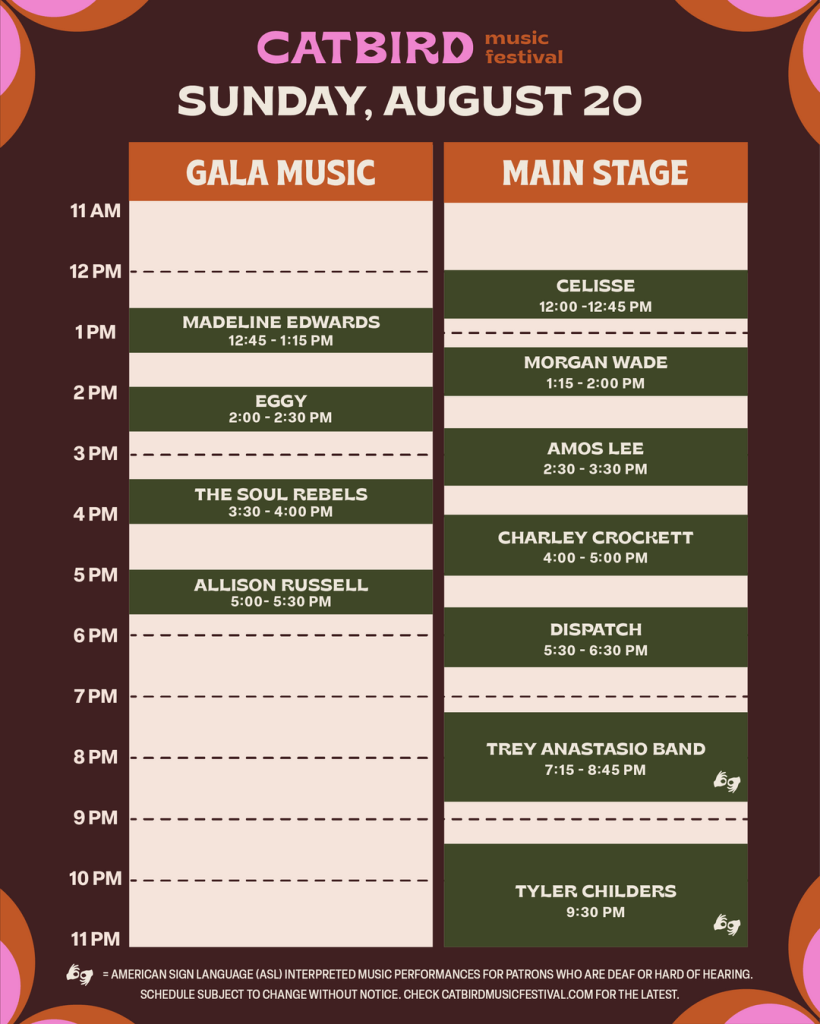 MUSEUM: In addition to music, the festival will allow (for a fee) attendees to stop by the Museum At Bethel Woods to check out the wonderful preservation work on the music and times of the original Woodstock festival. A favorite place of mine, the museum showcases not just the unique weekend at Bethel, NY in 1969, but also the historic significance of that time in history and what was happening all over the country to inspire so many to travel for such an important event. There are interactive exhibits and immersive experiences throughout. It's a truly lovely place to visit to really feel the spirit of Woodstock.
FOOD AND LODGING: The Catbird Festival offers a variety of food vendors to fit all sorts of tastes with items like tacos, calzones, and seafood. The camping offered this year has several options for festival goers from car camping, tent camping, RV options with and without hookups, and even a "glamping" option for those who need a little extra pampering. The camping passes start at just $99 and are still available at this time. There are some lodging options in the area, but it looks like most of those have been snatched up by attendees as of today. There are a handful of options still taking reservations in nearby Liberty and Monticello last I checked.
TICKETS: Tickets for the Catbird festival are still available with one ($145) and two day ($205) options for General Admission. There are also some Plus, VIP, and Platinum options available as well with extras like access to special lounges, lockers, and a dedicated concierge services. Parking is included in all ticket prices, regardless of tier, though there is a Premier Parking option available starting at $70 which gives access to the lot immediately opposite the entrance.
ACCESSIBILITY: Accessibility features at this festival so far are outstanding. In addition to reserved handicapped parking (as long as you have the necessary state issued placard/plates) and accessible entrances to the festival, there will be an on site Accessibility Services Hub for patrons who might need to stop in for additional assistance or information. There are also accessible camping options and if needed, patrons can reach out to access@catbirdmusicfestival.com after their tickets and passes are secured. In addition, those patrons who are deaf or hard of hearing will see that the schedule specifies which artists will have ASL translation ready to go. Just look for the hands in the bottom right corner of the artist listing.
That's the preview, folks! A Perfect Mess is BEYOND excited for this festival. We will be on hand at the grounds to provide up to the minute coverage and updates on Facebook, TikTok, Instagram, and Threads, and we cannot wait to bring you all the excitement of the first Catbird Festival!
Tickets, camping, and updated festival information: https://www.catbirdmusicfestival.com/