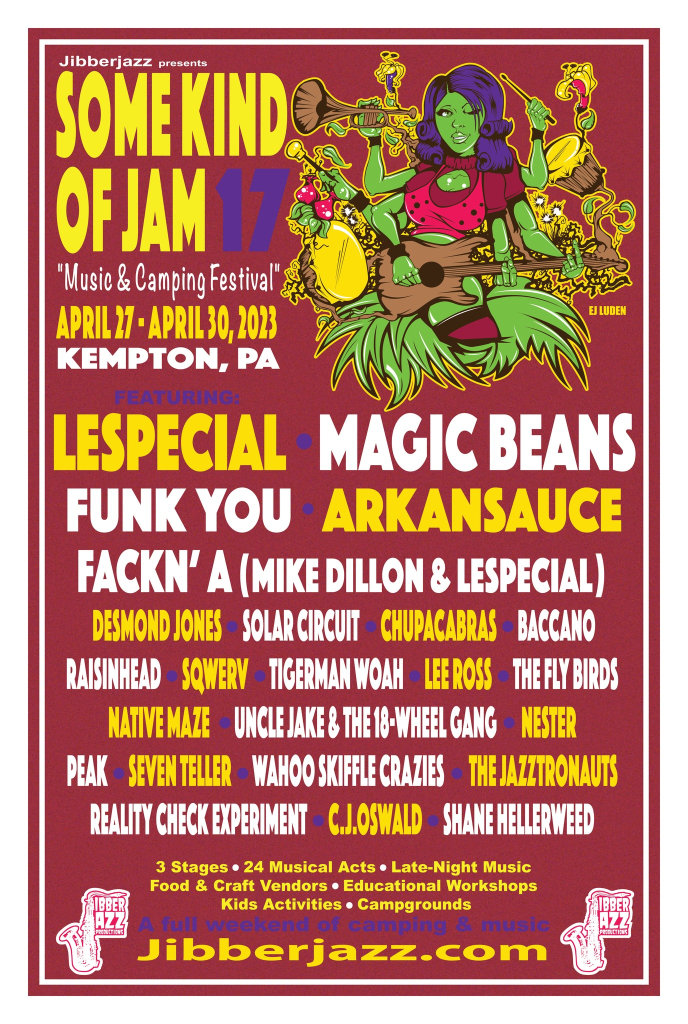 Reposted from Jibberjazz Productions:
Presented by Jibberjazz Productions, this year's musical camping extravaganza will feature 24 musical acts on 3 stages, along with late night jams, kid's activities, workshops, vendors, parade, plenty of room for camping and more. Festival artists are hand selected from all corners of the USA, and will showcase a variety of musical styles including: Jam, Funk, Bluegrass, Rock & Roll, Blues, Folk, Fusion, Prog, World, Roots, Jazz etc. Presale tickets are available now!
Our Some Kind of Jam 17 lineup features bands drawn from 13 different states. Additionally, 14 out of 24 musical acts have never played a Jibberjazz event before. The true spirit of Jibberjazz is alive and well, as we continue on our quest to find the next great sounds that emerge from the abyss.
Going back almost 20 years, Jibberjazz has produced over 50 music & camping festivals, including the annual Some Kind of Jam and Meeting of the Minds – as well as Madsummer Meltdown and Boogie In The Bungalow and many other music-related events. These gatherings have featured national and regional, original acts ranging in funk, jam, bluegrass, psychedelic, jazz, blues, folk, reggae, rock & roll, singer-songwriter, and many more musical styles too numerous to list. All Jibberjazz events are 100% self-produced, with no corporate ties or sponsorships, as we remain a fiercely independent grassroots organization.
The Jibberjazz focus is finding national and regional bands on the rise and unleashing them on unsuspecting audiences. We are a bridge between vast musical pockets scattered across the country and our main purpose is to find and develop these bands. We take great pride in the quality and diversity of our lineups, and we are always on the lookout for the next great sound to emerge from the abyss. Tomorrow's Headliners Today: The mantra Jibberjazz has embraced throughout past couple decades.
For tickets and more information, head over to https://www.jibberjazz.com/