You might be staring at your summer calendar and wondering where to head for live music or who you should be looking out for. Well, look no further, friend. We here at A Perfect Mess have got you covered! We are here to let you know which bands to watch out for this summer. We do the work, we listen to the music, we check the flyers, we have you in the know!
The weather has finally warmed up in this strange weather year, and that means Festival Season is upon us again! That can mean only one thing…
Three days with no shower.
Ewwwwwwwwwwwwwwwwwwwwwww.
Just kidding. You can buy those at Walmart now, friends! What it truly means there is music for days and good times to be had with fantastic friends, cold beverages, and smiles all around! Summer doesn't just means festivals though. Weekends and weeknights are booked solid at our favorite local venues inside and out. There are a ton of great shows happening. Let's take a look at the bands you should be checking out while you are out there this summer!
One Time Weekend: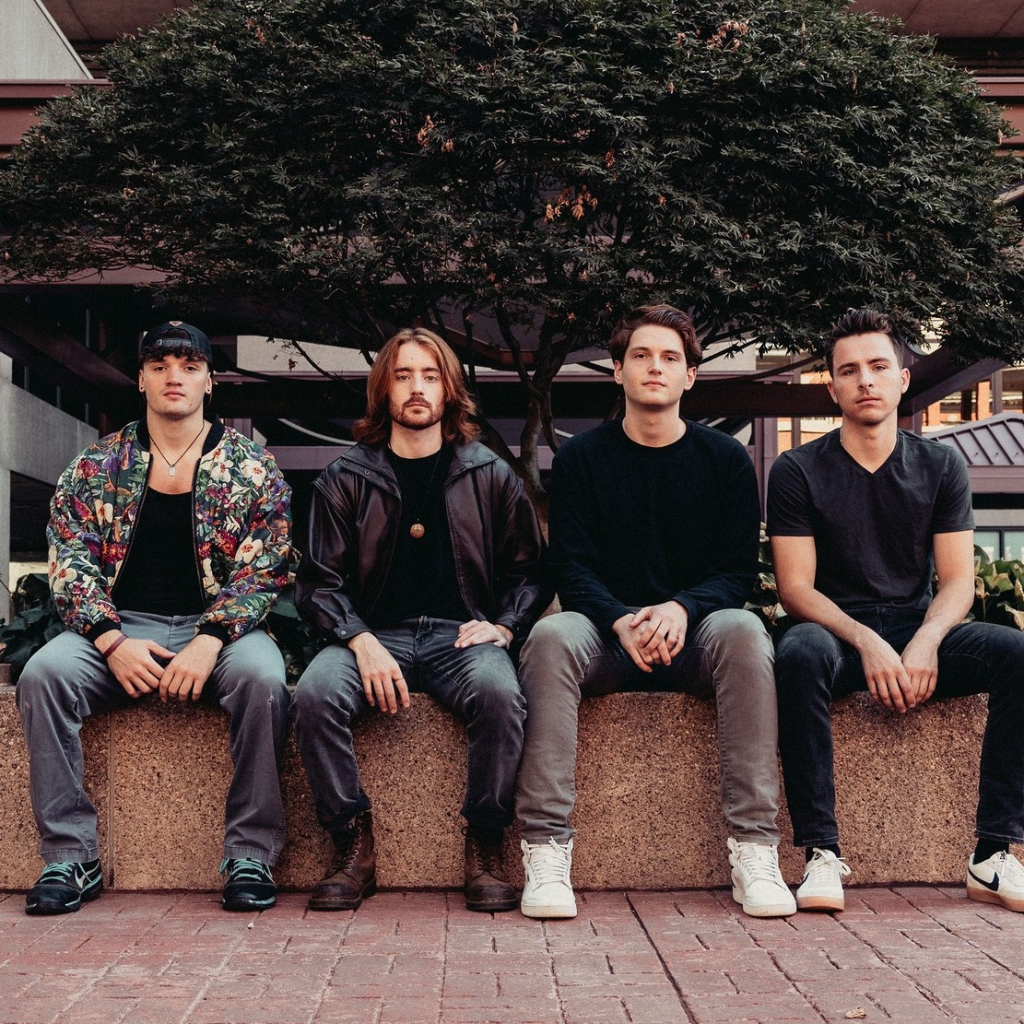 The band with the mantra, "We groove – You move." should need little introduction. We caught these guys at a festival that shall not be named in New York a bunch of years back and they blew us away. Still very new, they opened the show so a lot of people missed them, which was a shame because they are fantastic. Their debut full length album, 'Weekend at the Circus', is a spinning and dancing funk rock explosion with every song giving you a different taste of what this band is capable of. Now they have a new full length called 'Fire It Up' bringing equally tasty "shred-funk" jams peppered with well written harmonies and killer solos. On top of that, they do a killer live show. We have delighted in watching them get bigger and bigger in the years since that first time we caught them, and this summer they are all over the place. Find them at Peach Fest in Scranton, PA (6.29 – 7.02), FarmJammaLama in Brookville, PA (7.8), Hill Country in New York City for a Phish After Party (7.29), Asbury Jams in Asbury Park, NJ (8.03), and many more! Check out their website www.onetimeweekend.com for more dates! Get out and catch them!
PEAK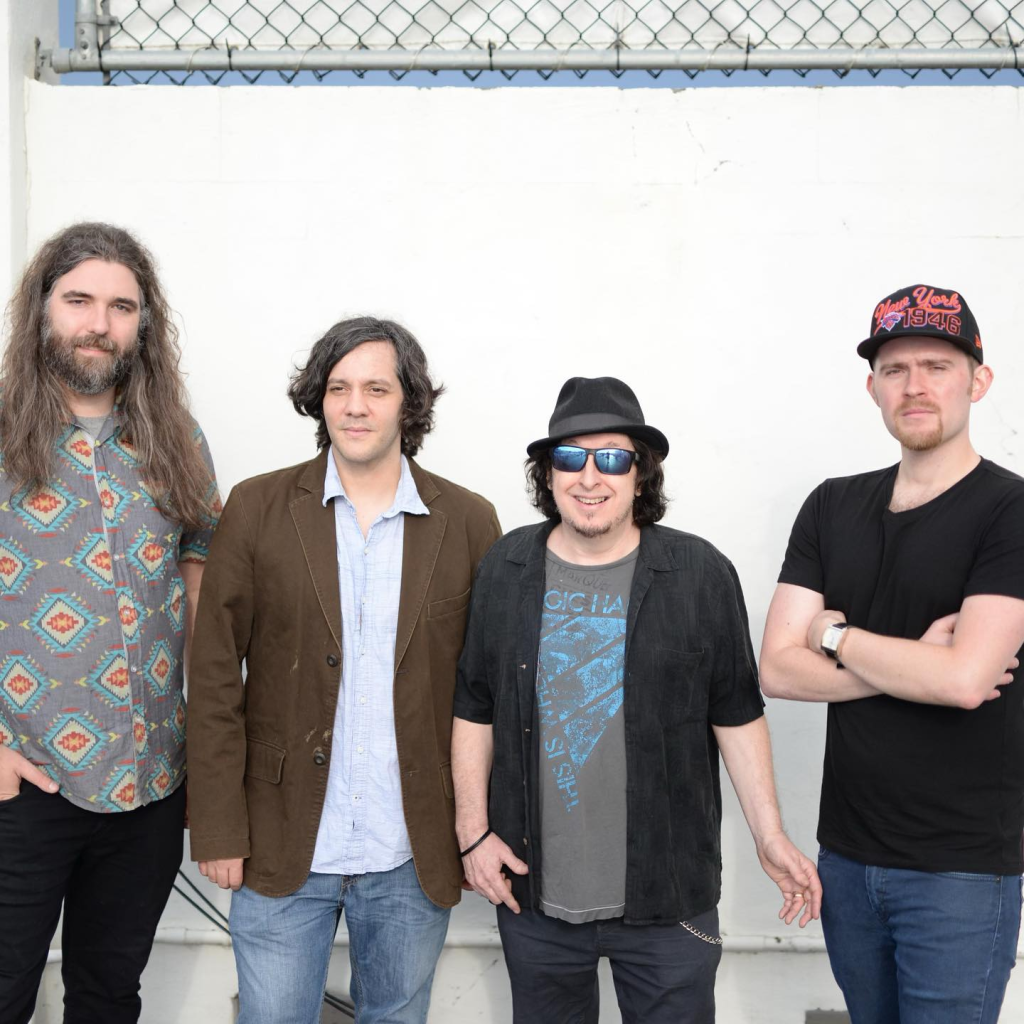 PEAK is a band I was introduced to via an assignment from The Jamwich way back in 2018! We have been keeping you all updated on the goings on with that outstanding New York City band for a few years now. Psychedelic Indie Funk with killer jams that send crowds spinning while giving thoughtful lyrics you can hang along with makes PEAK a late-night dance fuel band not to be missed when you are out and about this summer. They are a perfect blend of jamtronica and moody, illuminated indie tied together with stellar, sky high jams. The band's debut full length Electric Bouquet gave everyone a glimpse into where guitarist/vocalist Jeremy Hilliard's mind wanders to. Somewhere between catchy rock vibes and cool jam grooves. Followed up with the full length album, 'Choppy Water', and PEAK brings you into a whole other world told through storytelling and pure rock, folk, and jam vibes. The band fills out with keymaster Johnny Young, Bassist Josh Carter, and drummer Kito Bovenschulte. The band has been all over the Northeast this year and last, adding dates all the time. You can catch them at Funk N Waffles in Syracuse, NY (7.14) and the fantastic Yasgur Road Reunion in Bethel NY (8.12). Keep an eye to their website for always added live dates at www.peaktheband.com. They are a truly outstanding live band!
Desmond Jones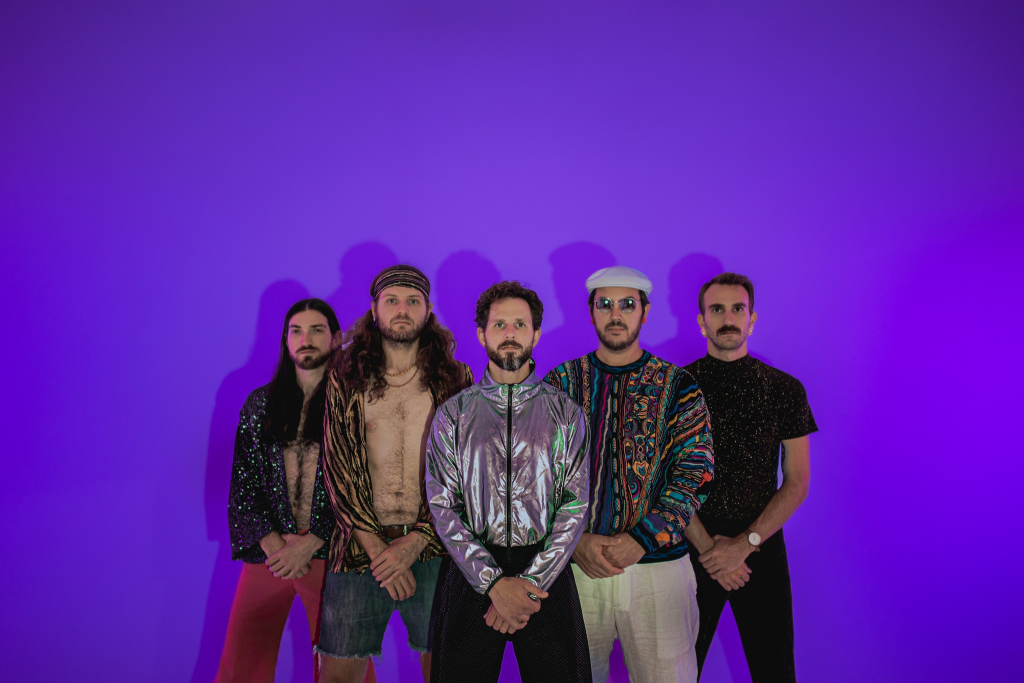 Good golly, these guys! Another band I reviewed a bunch of years back for The Jamwich and I have had them on my radar ever since. A band that never takes themselves too seriously but absolutely could, if they chose to! I am so glad they don't. They bill themselves as having four studio albums, viral cat videos, and being Mom and Dad approved. A five piece band from Grand Rapids, MI, these guys bring a sound that is bit of funk, a lot of rock, and "a big ol pile of saxophone" to their live shows and I am here for it. They have been out there doing their thing since their beginning back in 2012 and it's so awesome to see them all over the dang place this summer. Their show dates are up and rolling with Summerfest in Milwaukie, WI (6.30), Smiling Acres Music Festival in Trufant, MI (7.1), Shagbark Music Festival in Alaska, MI (8.4-8.5), and a ton more. Keep up with this fantastic band over at their website, www.desmondjonesband.com and get out to see them where you can!
Doom Flamingo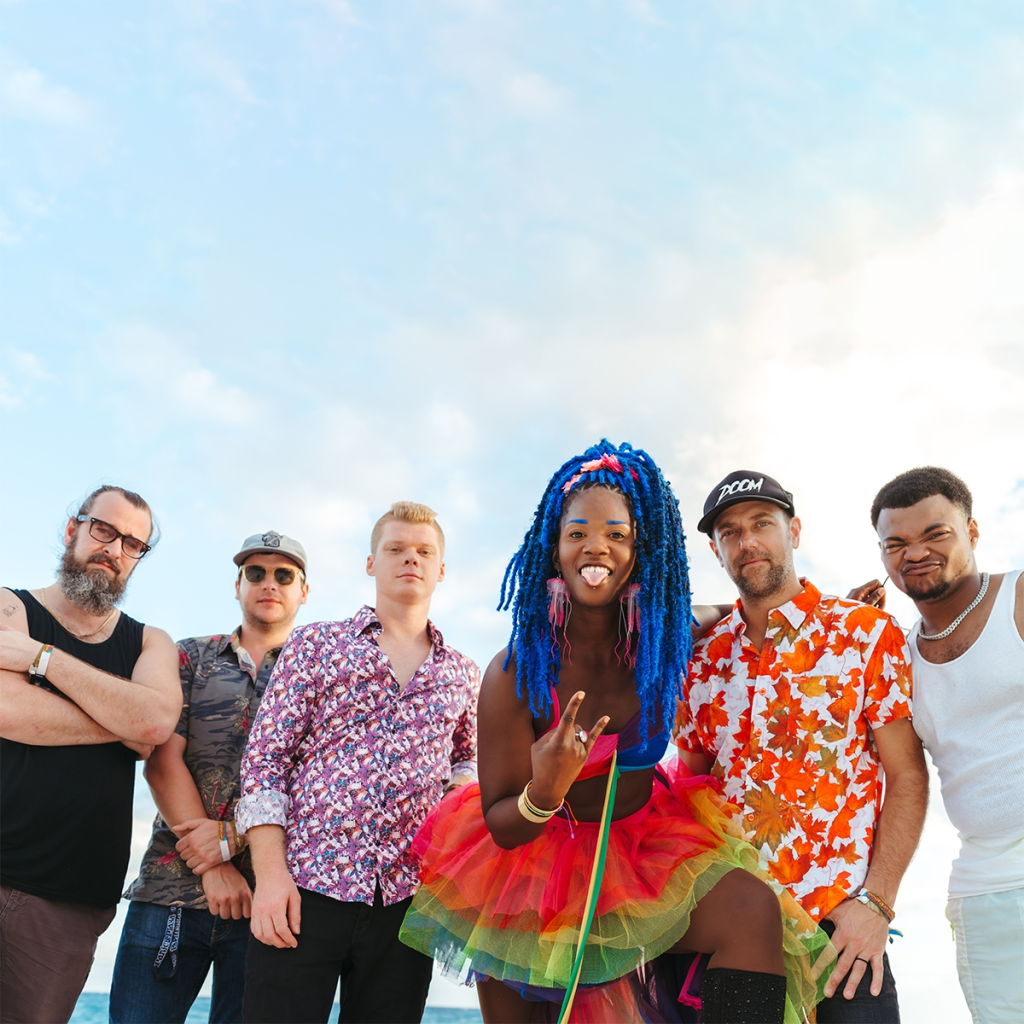 This is legit a band that I was not sure if I could include here, except that it has jam scene players and I have seen them on festivals I was at and OK SO WHAT – they are freaking AMAZING. I slept on this band for too long. Referred to on their website as a "six headed synthwave beast", this band is comprised of stellar players who were friends and decided they really liked making people dance. So they do! Their vocalist Kanica Moore has one of the most positively uplifting voices I have ever heard. Their funky, blast off energy is everything you ever wanted shooting through every inch of your body. I cannot fathom sitting still at one of their live shows. Doom Flamingo's most recent full length album, Peaches and Bobbi, is stuck on my playlist and its not moving. Their live shows are stacked and you can catch them out at Resonance Music and Arts Festival in Garrettsville, OH (7.1), 4848 Festival in Snowshoe, VW (7.14), Cobblestone Live Music and Arts Festival in Buffalo, NY (7.15), and so many more. Head on over to their website at www.doomflamingo.com to keep up with the band and their dates!
Dogs in a Pile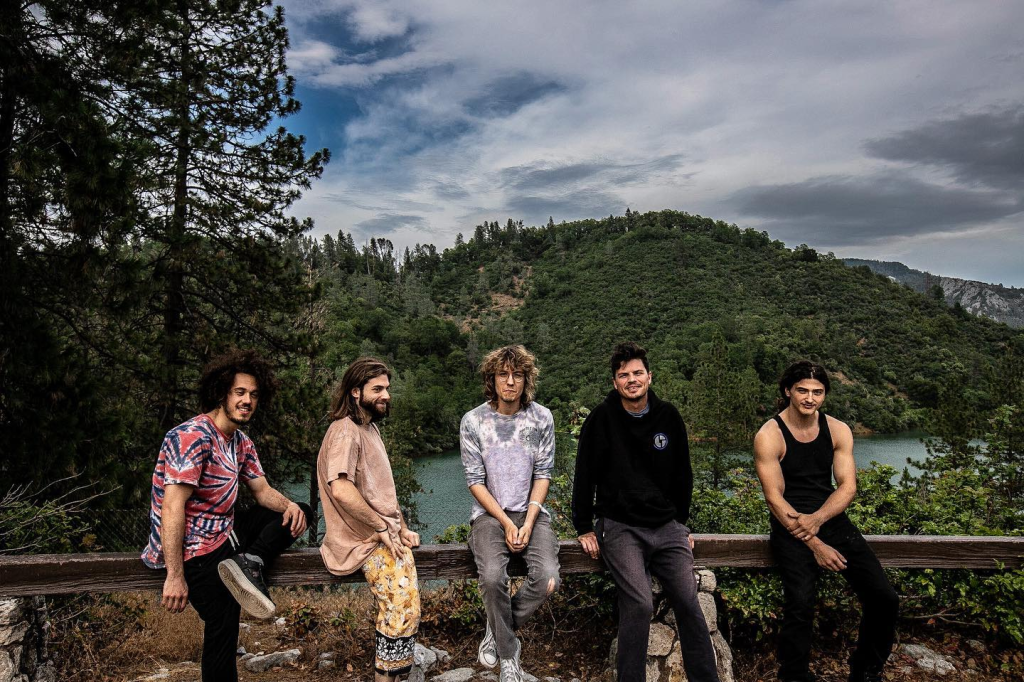 "Cat on a tin roof, dogs in a pile, nothing left to do but smile, smile, smile." A nod to The Dead from their song 'He's Gone'. I love these guys already. From my home state of New Jersey, but down south in the legendary Asbury Park where so much fantastic music was born, these guys have been popping up on festival lineups for a few years now and I dare say I have not gotten out to see them enough. Their sound is a funky take on rock, psychedelica, and a swirling of jazz that brings you on an exciting and eclectic adventure and really – what is better than that? Their most recent full length album, 'Bloom', is that eclectic mix of reggae beats, funky bass lines, dance feels, throwback vibes, and just plain old good jam grooves. I'm a recent listener and I have to say, I might be joining that Dog Pile I keep hearing about. You can get out and check these guys at the Peach Music Festival in Scranton, PA (6.30), The Rye Bread Music and Arts Festival in Schaghticoke, NY (7.27-7.29) Catskill Mountain Jubilee in East Durham, NY (8.10), and a TON more. Head on over to their website for more dates and more on the band at www.dogsinapileofficial.com!
This is HARDLY a complete list. There is a ton of great music happening right now and you just need to put your ear out there and give a listen! We are always here to take suggestions so if you know something great that is happening, give us a shout in the comments or send an email! As always, see you out there!