Originally posted 09/19/2017
I admit I am very late to the party in regards to Dopapod.
About four years ago, they played with Mother's Wine, who my husband played bass for, at the teeny tiny Stanhope House here in New Jersey. It was prior to getting my head out of my ass in regards to music and even then, I was impressed by what I saw. Did you ever see a band and think, "There is something to this and I don't know what it is." It was one of those moments. I never really forgot that show. The problem was that I just wasn't into it yet. I guess I wasn't ready yet to appreciate it. My mind was still too closed off. All that considered, I was still taken back by the sound and the groove that these gents put forth.
Fast forward to Disc Jam this past June. I was there covering the festival for the blog and was going to again have a chance to whet my whistle with Dopapod goodness. Eric and I were at our campsite, not far from the stage, prepping shrimp tacos for my upcoming Beau Sasser interview and Dopapod's set was our soundtrack. It was in that moment, sipping beer and grilling shrimp, that my ears finally perked up. Dopapod is their own sound. They are not like other bands. I guess that is what kept drawing me to them. Still, I was not yet familiar enough with their sound to really appreciate them live. That was going to change.
Over the last couple months, as my life got increasingly chaotic, I have been leaning hard on music for stability. It's been the glue that has held my soul together while I went through some mentally trying moments and drastic realizations resulting in major life changes. One of the bands that has crept deeper and deeper into my soul through all that has been Dopapod. It started where it probably does for a lot of folks, judging by the play numbers on Spotify. I heard Present Ghosts, and I fell hard down a Dopapod rabbit hole. Something about that song just got inside me. It had groove but was still laced with a spacey synth vibe. It had these gorgeous vocals that iced the track creating a magical, delicious chill that got down to my bones. That was it. Sold. Done. Put a fork in me. Hi, my name is Amanda, and I am addicted to Dopapod.
When I got wind of a new album coming out this fall, excited didn't even begin to explain it. Sometimes I get to write about artists and albums and it feels like the very best Christmas morning ever for me. This is one of those times. I can't tell you how many times I checked my e-mail waiting for this preview.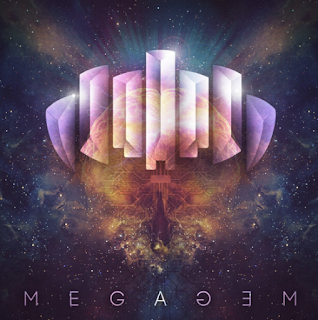 Coming October 26th, 2017, the band's fifth Studio album, MEGAGEM, is going to drop like a bomb and blow a whole lot of minds. Mark my words. I really didn't know what to expect when the record landed in my inbox, so I sat myself down and got ready. I was not prepared for what I heard. My first full listen through was basically me sitting there with headphones on, staring at the wall with my mouth hanging open. It's not to say that the albums that came before this were not great, because they are. Dopapod is a band of incredibly creative songwriters and high caliber, insanely talented musicians. It's why they can do what they do, blending dance, funk, and prog rock into a jam rock vibe that appeals to every corner of the scene. What I am saying is that they raised the bar now. Scratch that. They picked the bar up, spun it around, and fucking launched it. It's no longer visible. The bar is gone. This record is amazing.
There is so much that is wonderful about MEGAGEM that I don't know where to start. All those trusted components of Dopapod records are there. The gorgeous vocals that Eli and Rob weave together that are nothing short of magical in their applications. These two guys know how to take their voices and lace them together like LA Gear neon laces in 1988 creating an unmistakable sound that is 100% Dopapod. It's one of the things that pulled me into their sound so hard. They truly understand the instrument that their voices are. It's impressive. It's beautiful.
The band brings that prog rock funk with trailing guitar on tracks like Buster Brown that take you to that quiet moment of sway where you have to just stop and not think. It's the kind of song that picks you up so politely and carries you somewhere else entirely without ever leaving your seat. It's a gentle groove with steady drums, flowing bass, and those tasty layering keys. The track Starfish is another one that got deep into my soul as well. It carries a pulsing drum beat with rain-like keys, deep bass, and vocals that pull you. The pulsing stops for a moment to give way to a quick, sharp and really cool bass spot before climaxing in a trippy emotional place. Something about the way the band wrote these songs is so incredibly Dopapod, but so incredibly different.
The song Mucho is an example of the funky groove that the band does so well. It's an incredibly inventive track while still being that clean body moving jam funk that Dopapod does so well. This is a band that has and will always get your groove going. They take sounds you think you know well and fuse them together in ways you never thought you would love. This song has this enchanting vocal break between grooves that reminds me of Zero 7. It gives that same delicious chill. It's so good. Confabulation has a real strong Beatles vibe. It's got that psychedelic, George Harrison thing going on. Think Revolver era with really great guitar solos. That's not a sound that just anyone can pull off.
But let's talk about the big one. The first single, Plaese Haalp was a kick to my head. It shook me to the core, and I honestly can't stop listening to it. This is the song that really made me say this is going to be the record that takes everyone by surprise this year. It kicks off nothing short of straight rocking, stopping only to lay down major funk vibe in the chorus. The vocals in this song are incredible. They hit peaks and valleys as the song progresses. The first time I listened, I didn't know the band had posted the song as a video on Facebook and I stupidly assumed those strings were synthesized. NO. Those are in studio orchestra musicians lending their talents to the album and it lifts this song to a whole new place. The guitar solo is tasty. The bass lines are funky and strong. The percussion in this song blows my mind.
I put this song on in the car the second time because I needed to give the vibe a real feel and that is where I get it. About two thirds of the way through, the song changes. It slows and creeps but with a marching pace. Eli's vocals here made the hair on the back of my neck stand up as the song built higher and higher. Then it comes in hard with that synth. Good God, dude. But wait. It stops for a second before kicking back in HARD with strings and drums. This part of the song gives me goose bumps every single time I listen to it. It's an emotional explosion set to music. The power in how this track delivers is palpable. It's a perfect combo of aggression and passion just picked up and thrown at you. You will feel this song in your chest like someone knocked your wind out. I don't air drum in the car to much of anything outside of Rush's Counterparts album and I was beating the ever living hell out of my steering wheel here. This song is incredible.
The band recorded the instrumentals on this album at Mountain Star Studios in Colorado in the middle of the winter. Maybe it was the isolation, maybe it was something spiritual, maybe it was just that Dopapod is that freaking good but the music that was put together on this album sings to you when there are no words. The way these guys put sounds together is something I can't begin to understand but no one is doing what these guys have put together with MEGAGEM. A lot of artists are trying. No one is pulling it off. Not like this. MEGAGEM in a new level.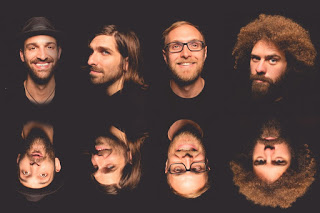 There is a big debate on Facebook jam scene groups these days about who is going to get the "torch" passed to them. Everyone wants to know who will be the next big band. Everyone has an opinion about why they think their favorite artist is going to be THAT artists who will carry the jam scene into the next generation. There are tons of theories about it. Every band's fans thinks they will be it and they can mostly defend their position with examples and spreadsheets and full Power Point presentations if asked. After listening to MEGAGEM, I can honestly say that Dopapod is a contender. Honestly, they get my vote.
After MEGAGEM drops, the band will be embarking on a cross country tour before taking a well planned year long hiatus to focus on themselves. They have kept up a pretty impressive pace over the last seven years and it's actually a brilliant idea. It gives everyone ample time to sit and chew on MEGAGEM for a while, and chew you should. There is a lot about this record to consider and I honestly can't say enough about it. Of course, I finally get into Dopapod right before they take an extended break. I am going to have to hit as many of these shows as possible.
Dopapod are a band that truly feel everything that music is. They see it as the art that it can be and they remain loyal to that art. In a world that seems more and more overrun by what can be easily tapped out and sold as music, the artistry of musicians is becoming more and more precious. Far too often, creativity seems to take a backseat to what is easy and profitable lately. I am delighted to be right now sitting and listening to something so obviously crafted by artists who pour themselves into their music from the inside. I don't know if all the emotion dripping from me as I listen was intended, but it's damn sure appreciated.
The band will be releasing certain tracks as "Name Your Own Price" on Bandcamp leading up to the actual CD/Digital/Vinyl release as a gift to fans. They obviously don't have to do that. The fact that they are says a lot about who they are.
You can find the list of tour dates on their website HERE which includes a New Years Eve show in Boston, the band's origins, at the Paradise Rock Club.