Originally posted 03/12/2018
I'm a ska girl who married a jam guy. We are both pig-headed, stubborn idiots who bonded over Bad Religion and Irish coffees long before we ever took off our personal blinders and truly delved into one another's "home scenes", so to speak. I have told this story many times on this blog, and it always ended with our strong desires – someday when we win the lottery and have all the money in the world for guarantees and VIP treatment – to have a massive festival to celebrate it all.
That's our lottery dream. After we buy a farm, pay for college for our kids, have a good night's sleep for the first time knowing our bills are actually all paid, we want to have a celebration of music that creates that bridge across the line few dare to toe between the jam scene and the ska scene. Now, let me clarify that this line really does not exist between musicians. The line exists in crowds. It exists between promoters. It exists to label heads. The folks to whom a scene and it's fashions hold more water than it's music. The folks who won't listen to something if it's appearance go against the grain of what they are used to being surrounded by. It exists in every scene. No one is exempt. It's no one's fault…but it's there.
One thing I learned since opening my own eyes to the world outside my own scene is that nothing I thought I knew was true. Nothing I thought was typical was typical. Nothing I thought was universal was actually universal except love. A deep love for music that seeps into our skin and finds its way down into our bones until its truly part of us. No one knows that devotion to something so deep like a Deadhead. I married a Deadhead. Whats more – I married a Deadhead who was raised by a Deadhead so this deep love comes inherited. Our wedding song was Ripple. What I know though is that folks not raised with a love of the Dead don't always find it on their own. They often carry a misunderstanding of everything that surrounds the Grateful Dead.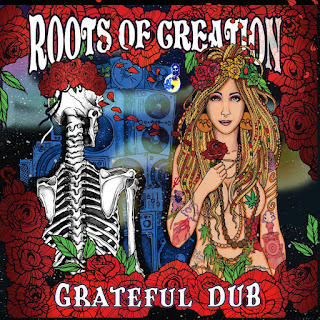 Enter Roots of Creation. An incredible fusion of reggae and funk fusion that has been fueling the jam scene with love and groove since 1999. Their smooth reggae feel and strong, sweet mix of vibe and sound has made them a well respected presence and who better to take the songs of one of the most legendary bands in the world and create something magical… and that is exactly what they did. Their album, Grateful Dub, was a crowd-funded effort to bring collaborations with some incredible artists to the songs of the Grateful Dead and see what sort of incredible explosions occurred. What they achieved is nothing short of amazing. Not only that, it's been a true bridge across the scenes. It's an example of that thing we lottery-dream about. It's right here.
With songs like They Love Each Other, the Dead's 1973 classic, presented on Grateful Dub as a vocal collaboration with the jam scene's own Hayley Jane of Hayley Jane and the Primates. Hayley is an extremely versatile vocalist and performer, so it's no surprise that she could nail such a great Dead song. What is amazing though is that she nailed a great Dead song covered in reggae style. Not amazing because I didn't think she could, just amazing because I never heard her do anything like this and it's straight FIRE. The horns in this song are sexy as hell, the beat is steady and grooving, and the way Roots vocalist Brett Wilson harmonizes with Hayley is just fantastic.
I mentioned above that Ripple was my wedding song. It's safe to say that I hold it close to my heart and I am a bit of a snob about covers when it's songs I have a deep connection to. I won't lie. I was worried about this one, even being the ska girl I am. I have to say though – they nailed it. Roots teamed up with G Love and longtime Jerry Band member Melvin Seals on this 1970 Grateful Dead classic. It's gorgeous, it's got groove, it makes me want to shake my body and cry a little. It sounds like a backyard party with the best people you ever knew. It sounds like the spirit of the Dead in a different package. It's infused with everything that makes this music great.
Now let me get to where my mind exploded on this album. Roots included a cover of the 1972 Dead song Deal. It has a kicking, smoking, purely hot groove that would be at home at any ska, reggae, rocksteady show I ever attended. This song was a collaboration with dirty reggae masters The Aggrolites and Jesse Wagner's vocals lit this song up like dry sticks doused in gasoline. My husband called me up almost in tears when he first heard this song and the moment I heard it, I got it. This was a primary band in the jam scene teamed up with a primary band in the ska scene ripping up an incredible song from the Grateful Dead in their own ways as one. That right there is everything. This whole thing has my mind in a million pieces for the best reasons.
That's just a sampling. You need to listen to the whole album. What Roots of Creation did here, taking some of the best loved songs by some of the best songwriters and performers and weaving the with reggae-fusion and style, is a treat on it's own. The fact that they did it with prominent faces from both the jam scene and the ska/reggae scene is something extra special. It bridges a gap between fans of wonderful music who in many cases have no idea how much in common they really have. The love and unity I found in both of these scenes redefined my life at different stages and made me the person I am, and the person I am constantly evolving into. I can only hope there is more of this to come. More incredible scene crossing collaborations and eyes that open all across the board, There is so much more magic to be had.
The album was recorded in the band's hometown of Brookline, New Hampshire with legendary producer and engineer Errol Brown – known for his work with masters like The Paragons, Alton Ellis, and Bob Marley. They recorded the album over ten sixteen hour days in January of 2017 and what was captured is pure, soul shaking goodness straight up to the heavens. The thing I love the most about the jam scene has always been how I am continuously being shown I know nothing about how much music can surprise me. This brought that love to a much more personal place.
I can't believe how much this album floored me. I love discovering I can still be floored. You can find out more on the band's website here: https://www.rootsofcreation.com