Originally posted February 5th, 2019
The Prizefighters are a Midwest rocksteady force to be reckoned with, and I have no problem saying they are leaders in their genre right now as a still fairly young band. I first heard them in the infancy of this blog when I reviewed their record Follow My Sound back in 2012. Not long after that, this blog went on a hiatus for a couple years while this band continued to build their mastery of the ska and rocksteady sound. This is no exaggeration.
The Prizefighters have been a backing band for respected legends like Derrick Morgan, Stranger Cole and Patsy Todd, Roy Panton and Yvonne Harrison, just to name a few. They have teamed up with legendary harmonica player and vocalist Charlie Organaire on a trio of 45rpm singles (released on Jump Up! Records) and a European tour. When it comes to an American band injecting real authenticity into a Jamaican sound, the Prizefighters have done more than their share of homework. They present this respectfully and as authentically as possible. This is clearly evident when you hear their new album, Firewalk.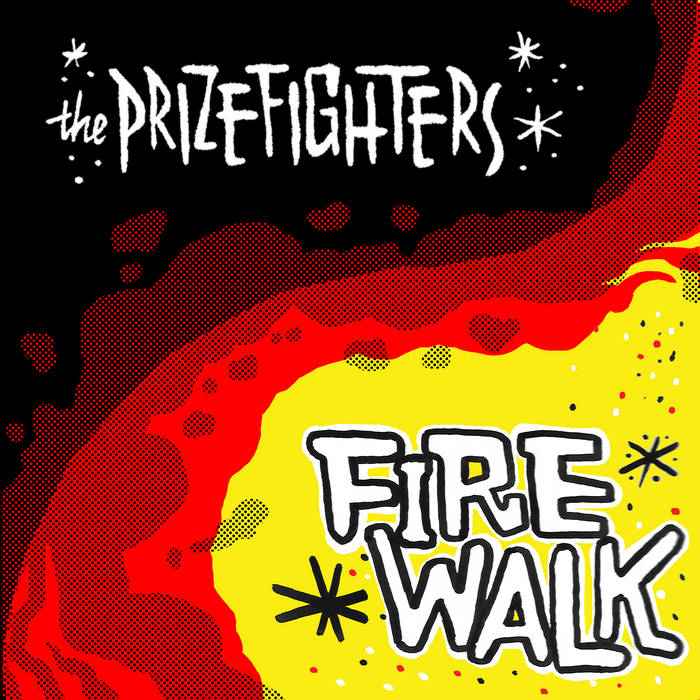 The love and deep respect for the ska and rocksteady sounds is loud and clear through this record. In fact, the album was recorded in a 100% analog environment to preserve that sound and energy and it truly has the feel of something straight out of the 1960's. I was immediately impressed by this. In a modern recording world with so many artists relying on technology to polish their sound, I respect deeply how much care went into the preservation of that vibe that we all know and love. It was perfectly captured. The groove of the record itself from start to finish is purely classic while still highlighting the modern chops of this band.
Right out of the gate, the record is a hitter. The opening track, Just Let The Music Play, has a steady bass groove, great smooth horns, and a gentle but hitting vocal. The next track, You'll Never Know, kicks the energy right up with a sound that sends you straight back to the 60's with the beat and the vocal energy. This is a fun song, and the horn and drum work is great, capturing that energy and sending it upwards and outwards. I would look forward to seeing this one done live, it's a LOT of fun.
As much as I dig the Prizefighters' vocals, they do a fantastic job with the traditional rocksteady sound as an instrumental as well. The third track on the album, The Accolade, is a great example of what they can do without vocal. Spectacular brass work and that steady chugging groove keeps feet tapping through to the end. Bebop Rocksteady is another one. It kicks right in with those horns to grab you and then holds on tight with a steady drum and bass groove. The thing about these folks is the way they make the music sing without having to say a word. They bring all the energy of an enormous crowd and funnel it through horns and bass to come out steady and smooth.
Skip on over to Burnt Toast and Black Coffee next and feel the energy immediately. That cool sound, great backup vocals, a great modern yet traditional sound. The vocals on this one are probably my favorite on the whole record. The title track, Firewalk, is another one worth mentioning. It's got a sexy, creeping groove and these quick and shadowy vocals woven in that get right to the heart of the matter, "If the ground gets too hot, you must do the fire walk…" The sax work is really catchy and this track is the kind that will stick with you while keeping you moving. This is not a record to stand still listening to at all.
All in all, this record is a must have. There is a lot of big talk out there about capturing a traditional sound and vibe in a recording. Usually instead, you get something concocted and over produced. The Prizefighters took their love for that sound and brought it way back. It rings bells in the soul to listen to their work on this record. It's really, really well done.
Firewalk will be available on CD, cassette (yes!), and digital on February 15th. There will also be a vinyl release on Jump Up! Records later on in 2019, if you want to add some Prizefighters goodness to your library. The band's record release show will be happening at the Turf Club in St. Paul, MN on February 15th, presented by Ska Brewing. For those of us on the East Coast, we can expect the band for a tour later on this year as well so we can get our own booty's shaking.
You can check out more tour dates and release info on the band's website, theprizefighters.bandzoogle.com