Originally posted May 27, 2022
I have been writing this blog for over ten years now and I can't possibly think of how many times I have expressed what an absolute whore for tasty vocals I am. I love vocals. I grew up on folkie singer songwriters and blossomed into an absolute nerd for vocal heavy music as I aged. I love hearing someone tell me a story. I love hearing someone explain their joy, heartache, or just absolute confusion to me with their voice. My funky bassist husband and I constantly discuss his love for instrumental albums and songs and how it just doesn't hold the same appeal for me as it does him. I need vocals. I love vocals. I crave the emotion that comes from a voice. It's just what moves me.
Do you agree?
If you do, I have something absolutely delicious for you to check out.
There is this wonderful collaboration of musicians who love music and specifically vocal driven music called Western Skies. The band derived its name from a song they wrote that had a feel of that very thing which encompasses so much of this band to me – FEEL. Legend has it they were validated in this choice of name later when watching a documentary on Crosby, Stills, and Nash and heard Jimi Hendrix describe their sound as "Western Sky Music". That sounds positively perfect.
Comprised of Singer-songwriter Stephen Bard, musician-vocalist Dan Rappaport, vocalist Natasha DiMarco, and multi-instrumentalist Ryan Liatsis, Western Skies brings forth a beautiful blend of guitars and vocals that create a uniquely soul-forward sound. It has a purity and cleanliness in its feel while putting out a very BIG emotionally charged display of talent and understanding for sound. It's the kind of sound that transports you and I am so excited for you all to hear it.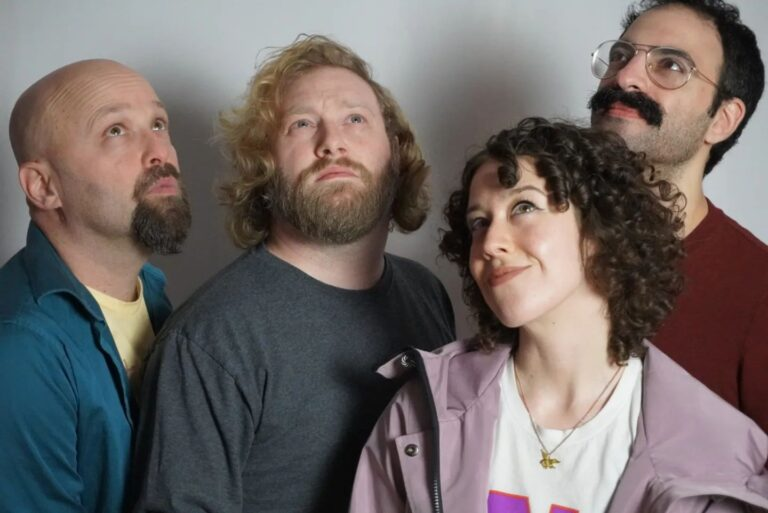 The debut album from this spectacular group is called Awake in a Dream. It's gorgeous and grabs you on your insides in all those wonderful ways that music can. The track that kicks off the album is called "Always Another Song" and if you dig vocal heavy songs, you will be hooked immediately. The harmonies here are beautiful and they absolutely soar. There is undeniably clear influence from other harmony heavy artists like Crosby, Stills, and Nash present in this song and that feel just carries. It's not just the vocals either. The song itself is beautifully crafted and the incredible guitar work of Liatsis is present throughout. The next track that really blew my hair back was "Hardest Pill" for its back and forth, push and pull feel. It's got such a traditional, classic rock n roll feel but the harmonies laid over top of that groove create a really tasty glaze that adds to the head bobbing, body moving groove. I can't listen to this song and not move with it. There is a really great variety of tastes that went into writing this record and it's evident by how no two songs seem to carry you to the same space.
But wait, there's more.
Skip forward to "The Ocean Stays the Same" and feel your heart tugged with sumptuous and broodingly distant vocals that ebb and flow like the waves of the ocean itself. Natasha's voice comes in slightly bolder than her male counterparts and creates the most ethereal feel as she harmonizes with them. I am completely transported, carried to the sea and deep within my own soul just listening to this song. I am not exaggerating when I say this is pure magic and I am transfixed. It's been on repeat this morning and I can't turn it off. Did you ever land on a song that seems to climb inside of you and pluck at the very strings of something you are going through? This is me with this song right now and I am soaring with it. I mean it – magic.
I am also a fan of "Beautiful Things". It has this carefree feel while still carrying a deeper tactility. This song feels like the middle of summer, driving on a back road in the sun before noon. It has a feel of hopefulness even without hearing what the words are saying. I think the most remarkable thing about the way these songs are written is that they carry such a tangibility to their emotions even before you hear the words. These four songwriters have a gift and I am here to receive it. This track is a fantastic example of that. I am a big fan of this "western sky music" and all of the wonderful places it takes you in your soul, in your mind, and otherwise. I sincerely hope this is not the last record we get from these incredibly talented humans.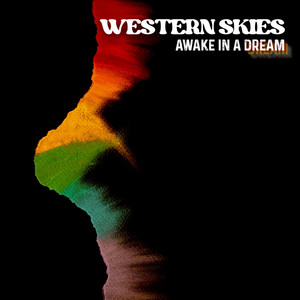 You can check out the debut record from Western Skies, Awake In A Dream, on all major streaming platforms. I think it will be spectacular to be able to catch this band doing these incredible songs live and we will all have that opportunity at NYC's Rockwood Music Hall in June 10th. You can check out tickets for that event here: https://www.seetickets.us/event/Western-Skies/480178
To get more information on Western Skies, please check out their Linktree here: https://linktr.ee/westernskies